Have you ever found yourself training your digimon and grinding for that DNA and DATA so you can get more digimon to level up and add to your mega army. Then you think to yourself, man I wish I had some friends here with me. Well then Digimon Master online is the game for you. Digimon masters online is a mmorpg based around the DATA squad anime time period.
You have the choice between 4 of the tamers from the series. Marcus Damon, Thomas H. Norstein, Yoshino Fujieda, and Keenan Crier.
After you choose your tamer you will choose between Agumon, Gaomon, Lalamon, and Falcomon as your starter digimon. you can name yourself and your digimon.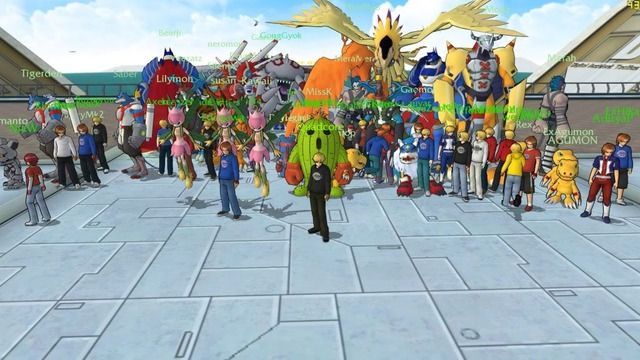 You're a new recruit for DATS (Digital Accident Tactics Squad) your main job is to collect digieggs from wild digimon and collect data from them.
and if your lucky enough you find some hatchable digieggs which require DATA to hatch. This isn't the only thing you do though, between collecting data and helping the town people you'll also find a bunch of main story quests. This will help you further your training in DATS, fight epic battles aswell as give you some nice rewords.
The Gameplay is well made for a digimon game. The graphics and textures are realy clean, and the real time combat gets realy fun in the later levels.
You controll 1 digimon at a time but can switch between digimon out side of battle freely. You may also switch between digimon during battle with certen items.
This mechanic does hinder you from taking on to many digimon at once and most combat is one on one.
Also another thing that could be improved is the egg hatching system. It is very easy to fail the hatching and some eggs take a large amount of data to hatch. But the upside to this is when you do hatch the digimon you want and evenculy turn it into a mega you get a great feal of acomplishment.
If you ever played a digimon game before you know just how much care and time it takes to get a mega. I mean digimon games are always so hard and time consuming if u want the best digimon.
Like all digimon games before it you will be grinding to collect Digieggs and DATA to improve your army of digimon.
Digimon masters is easily the best looking Digimon game out there. And the best part is you can play with your friends.
So gather your freinds and your digimon and go out there and save the digital world!