Hey! Any of you guys have any tattoos? What are they? Care to share them? Anything gaming related? Maybe post some pictures? Maybe you are looking at getting one or just want to discuss them, they can be very cool indeedy. I'll start the conversation off and I swear I didn't just copy and paste this of the CT!
What do you guys think of wrist tattoos? I'm thinking one that goes all the way around the wrist though in a design similar to Okami's Life Beads: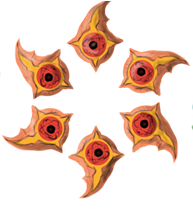 Just imagine the sides linking up and going around the whole wrist, thought that would be real cool. But then I thought there might be problems with having a tattoo so exposed, like some jobs don't let you have tattoos showing off and what not. Hmm....I'd also quite like the Star Fox team logo on me somewhere haha.