Lamer Gamers Podcast Co-Host
How you folks doing?
AYYYYYY!!!!!
​
I have been galavanting about on the twitters and podcastifarian scene but wanted to check in with everyone.
As usual it's been wild and crazy out here. A butadiene plant blew up about 9 miles away and shook my house to the point where I thought a tree fell on it.
The 2nd explosion the next day I got to see video of from Rowdy5000 (the cohost of our podcast Lamer Gamers) with the text underneath saying...
"LOOK AT THIS BOTTLE ROCKET!" ​
So, after that they decided that it was time to evacuate around 60 thousand or so people within a 4 mile radius. Rowdy5000 went a few towns over and I brought in a family of 5 that needed a place to go. I mean, when you have posts going around Facebook like this which have some actual validity to them...you try to find a place with any sort of friend of a friend of a friend's family.
These tanks are made to release pressure before exploding but the few that have exploded had massive explosions...
​
Thanksgiving was pretty good. We had more than enough food for about 25 or so people so I was able to send home our family friends back with a ton of food! By the way, in case you are wondering, a 3 year old can't destroy a Ring Fit Adventure controller. That toddler of terror definitely tried.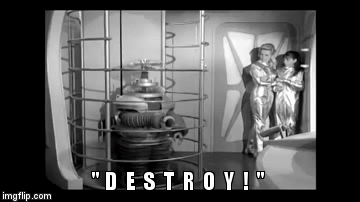 Totally accurate depiction of toddler entering our house.
​
After the fire at the plant was "contained" they lifted the evacuation order. Now this is not the same as extinguished. It just means the fire is burning and they are letting it just do it's thing. This seems like a bad idea but it's actually safer because it essentially burns up the chemical and keeps it from being released in it's original form. The smoke that it's releasing isn't exactly the best thing for you but it won't kill you instantaneously like the chemical itself will. So for now...there is a massive fire burning but everyone is mostly safe...mostly.
Hopefully everyone's Thanksgiving went great without all the explosions!
On a side note, our podcast has finally gathered over 1500 downloads and we're looking to move to a weekly podcast release! If you haven't checked it out here are some graphics I put together for a recent podcasters meet up that shows goes over what our cast is all about.