I use to be a huge pro wrestling fan for years (
I'm back to it a bit nowadays
). I use to watch every single Raw or Nitro episodes back in the day. I was buying wrestling magazines and I even went to a wrestling event in Montreal in 2002 or 2003. I had many favorite wrestlers
Ahmed Johnson
,
Brett Hart
,
Bill Goldberg
,
Sting
,
Mark Mero
,
Stone Cold
,
Sid Vicious
,
Razor Ramon
and more recently
Roman Reigns
... But my favorite of all time is without a doubt
The Rock
.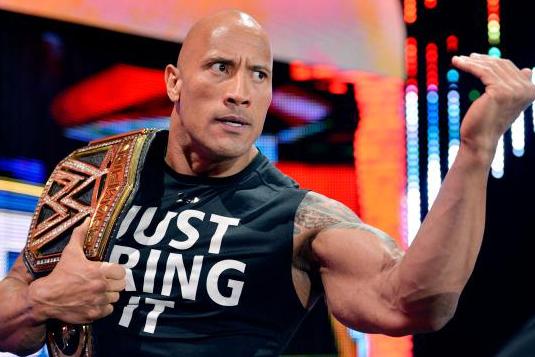 But the funny thing is that the Rock is probably a bigger actor than he was a wrestler. Dwayne "the Rock" Johnson is one of the highest paid actor and his movies are huge hits (
he made 31 million $ in 2015
). Not all the movies are good, but Rock is a great actor and here are for me his best movies. No other wrestler,
Hulk Hogan
,
Roddy Pipper
,
Stone Cold
,
John Cena
, managed to accomplish even a fraction of what the Rock did on the big screen... I guess everybody has in mind movies like
San Andreas
,
Fast & Furious 5
,
6
or
7
,
Pain and Gain
or even
The Mummy Returns
. But for me those are not the Rock finest work. Here is my top 5 :
For me the best Rock movie remains
Walking Tall
. It's the story of a marine of turn back home in rural America after serving for 8 years. He comes back and the city is embattled with corruption from a vicious casino business. The Rock will bring justice to the city in its own way...
Even if Walking Tall is the best Rock performance, my favorite movie with the Rock is T
he Rundown.
It's kind of a Indiana Jones movie, but with Rock flavor. plenty of action and humor. Probably one of the best Sean William Scott performance as well by the way...
Another great Rock performance was without a doubt
the Scorpion King
. It's probably the movie that established the Rock as a box office material. No wrestler came even close to the Rock success as a main star in a movie before the Scorpion King. Ok, it's not a great movie, it's just good pop corn. Probably a good rental, but nothing more. Still, Rock is larger than life in this role, you forgot the wrestler, you believe in the warrior king from ancient Egypt.
Ok, we knew that Rock was an established box office heavyweight ; but what we didn't know is that he could do it as well on the tv screen...
Ballers
is the successful new hit tv series from HBO that follows the story of a former NFL star turned into successful agent who attracts young talents. Ballers brought the biggest rating for a HBO shows since 2009 (
beating even Entourage
) !!!
Finally, I would conclude the Top 5 with the
Touth Fairy
. Again, as the Scorpion King, this is not an Oscar contender of any kind. The point of this thread is to show how Rock established himself as a great actor. He can do it all : Drama (
as Walking tall
), Action (
as the Rundown or Fast and Furious series
) and here Comedy in the Touth fairy.
It's pretty remarkable that a wrestler that I discover nearly 20 years ago as Rocky Maivia, has become of the biggest box office superstar on the big screen. What a incredible journey... What a incredible cook
!!!