For the...8 or 9 of you who still pop in from time to time, it's time to get to brass tacks, give the most obscene gesture to 2020 imaginable, and get spooky. That's right, it's ya boi making another Halloween for no better reason because I always do.
So at this point you know the score, this thread is for talking about anything related to this time of year. Watched a scary movie? Write about that shit. Played a game? Ditto. Doing any fun activities? I wanna hear about that. Saw a leaf that wasn't green? Son, you better believe that's post worthy.
So I know what you're thinking, "COV, my man, what have you been up to?" Well shiiet, I got a head start this year. A few friends have been doing a weekly movie night. So far we watched the original Nightmare on Elm Street and Night of the Creeps. If you haven't seen either, then you best fixed that. Night of the Creeps is my go to crowd pleaser. It's got everything you need: zombies, rubber suit aliens, gore, needless but appreciated nudity, comedy, romance, Dick Miller being typecasted, one liners, and a shotgun/flamethrower tag team.
I also played Silent Hill 2 which still remains one of the most engrossing games I've ever played. Currently, I'm played The Ghostbusters game that was remastered last year. It can be jank and some fights are way too dragged out, but it's still a good time. Having new Ghostbusters material with the original cast is pretty great.
Last night I watched Scooby Doo on Zombie Island. It's the first movie and it's actually pretty damn good. The story is pretty well told and well paced, and the use of colours and black shadows reminds me of EC Comics like Tales from the Crypt.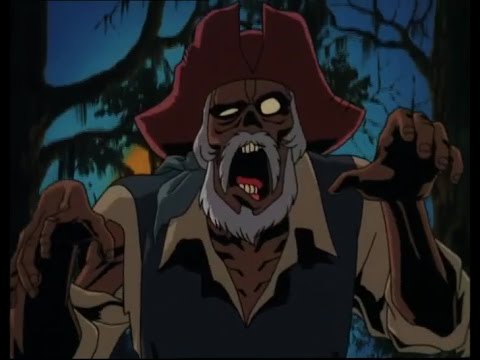 Hmmm, maybe not so much as I thought. Granted, the comedy scenes with Shaggy and Scoob were the low points, probably because I'm not a kid. I'm not an adult, but not a kid either. Either way, I haven't seen it since I was younger, so it was a nice nostalgic spook.
I plan on playing Little Nightmares as well. Also feeling The Evil Within and probably Silent Hill 3. I think the next two movies we have for movie night is Beetlejuice and Little Shop of Horrors. I do plan on watching Ghostbusters and Coraline myself at some point.
What with the world being an actual horror show at the moment, it's unsure if there will be a Halloween party this year. My neck of the woods is doing really good, we only have 2 or 3 active cases and we went weeks at a time without cases at all. So it's a wait and see. If there isn't a few of us will probably have another movie night or some shit.
So what's up TNE. Let's rap for awhile.